Veterinary Teaching Hospital
The Veterinary Teaching Hospital (VTH), patterned after the Philippine General Hospital setup, serves as the extension arm of the College. Headed by an appointed Director, Dr. Joseph P. Olarve, its supervision is placed under the Dean's Office while the day-to-day operations of the three stations are overseen by its respective Faculty-in-Charge (FIC). The services are provided by at least 23 personnel composed of Animal Health Associates (Resident Veterinarians), a Nurse, Medical Technologists, a Pharmacist, Radiologic Technologist, a Records Officer, Laboratory Aides, Research Aides, Animal Caretakers, and Utility Workers.  Furthermore, faculty clinicians from the other Departments of CVM also contribute significantly to the clinical services
of the VTH.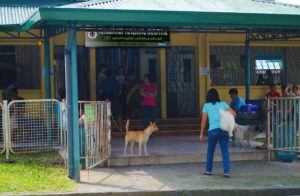 The VTH-Diliman Station, Companion Animal Clinic (CAC), located in Lope M. Yutuc Hall, E. Jacinto St., UP Diliman, Quezon City (FIC: Dr. Matthew Benedict T. Calibo), accepts mostly small animal patients for preventive health care, medical and surgical services in this urban setting. Clinical diagnosis is complemented with animal disease diagnostic laboratory services (like clinical chemistry, clinical microscopy, hematology, histopathology, microbiology, and parasitology), and diagnostic imaging services (digital radiology, ultrasonology, and echocardiography). Veterinary students go to CAC for real-life handling and clinical exposure to small animal cases as part of the Veterinary Clinical courses.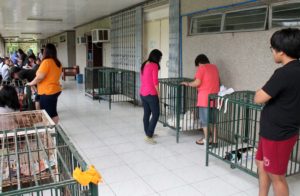 The VTH-Los Baños Station, Small Animal Section (SAS) is in the Victor Buencamino Hall, William H. Boynton Drive, UP Los Baños, Laguna (FIC: Dr. Ma. Rosario R. dela Cruz). It also attends to small animal patients from the surrounding rural communities for veterinary services in a regular, office hour-operations. The services are done in-hospital, or on house calls which is limited only to preventive health care. Veterinary students go on duty at SAS for actual small animal clinical rotation as part of the Veterinary Clinical courses. The digital X-ray machine is also used in Diagnostic Imaging classes.
The third section, VTH-Los Baños Station, Farm Animal Section (FAS), found in the Victor Buencamino Hall and adjacent landscape, William H. Boynton Drive, UP Los Baños, UPLB, Laguna (FIC: Dr. Joseph F. dela Cruz) is unique in that it has three (3) sub-sections: the Farm Animal Clinic (FAC), Animal Disease Diagnostic Laboratory (ADDL) and the Experimental Animal Farm (EAF). As indicated by the name, this section attends to cases of and concerns about farm animals. The FAC addresses the clinical cases brought forth by the farm animal owners, usually done with a farm visit for proper animal and farm evaluation, and subsequent prescription for management and clinical treatment to address various diseases and disorders. Some surgical procedures are also done in the FAC. The ADDL is akin to that of the same services of the CAC's for the cases of SAS and FAC, plus necropsy and water analysis. The latter is a regular service tapped by the UPLB's Occupational Health and Safety Committee to monitor the water quality of the campus. While the taking care of resident animals, and upkeep of animal enclosures for animal researches falls under the EAF sub-section.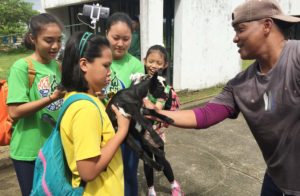 Thus, the FAS is a venue for the conduct of animal researches, and Veterinary Clinical courses for actual farm animal practices. Some of the laboratory exercises in DVM and Animal Science subjects that need animal handling, humane manipulation and exposure are also conducted in the EAF. Moreover, the VTH safe keeps sheep (resident animals) as blood source used in making bacteriology culture media needed by various microbiology laboratories within the University.
In addition, the VTH spearheads the coordination and conduct of veterinary extension programs directed to specific animal species or in specialized procedures. Current VTH programs are Neuter Days, Anti-Rabies Vaccination Drives, and the Kambing at Tupa (KaTE) and Poultry and Swine (ChickBoy) Extension Programs.