Philippine Journal of Veterinary Medicine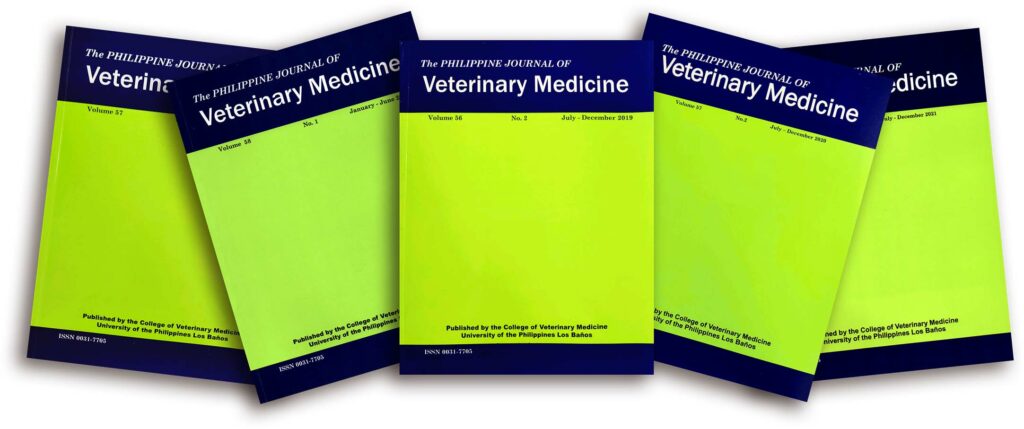 The Philippine Journal of Veterinary Medicine is a refereed journal of basic and applied research in Veterinary Science and Medicine. It is published semi-annually, in June and December of each year, by the College of Veterinary Medicine, University of the Philippines Los Baños. It covers various research papers on topics such as Veterinary Anatomy, Veterinary Epidemiology, Veterinary Medicine, Veterinary Microbiology, Veterinary Parasitology, Veterinary Pathology, Veterinary Pharmacology, Veterinary Physiology, Veterinary Public Health, Veterinary Surgery, Diagnostic Imaging, Nutrition, Theriogenology, and Wildlife. It maintains regular local and foreign subscribers, as well as exchange publications with several international journals. Currently, PJVM is the recipient of the Commission on Higher Education (CHED) Journal Challenge Grant under its Journal Incentive Program.
The PJVM is Abstracted/Indexed by: Clarivate Analytics Web of Science, Biological Abstracts (focus on Veterinary Science & Medicine), Zoological Record, CAB Abstracts, Index Veterinarius, Veterinary Bulletin, Parasitology Database, Helminthological Abstracts, Protozoological Abstracts, Review of Medical and Veterinary Entomology, SCOPUS, EBSCO, ASEAN Citation Index, Prescopus Russia, and UPLB Journals Online.
Price for local subscription is PhP 1,500.00, while price for foreign subscription is $100.00, inclusive of postage. Authors may submit their research works (see Guide to Authors) for possible publication to our journal through the Editor-in-Chief addressed below:
Editorial Board:
Remil L. Galay, DVM, DVSc (UPLB)
Editor-in-Chief
Marianne Leila S. Flores, DVM, MHA (UPLB)
Associate Editor
Cherry P. Fernandez-Colorado, DVM, MS, PhD (UPLB)
Rio John T. Ducusin, DVM, MS, PhD (UPLB)
Michelle Grace V. Paraso, DVM, MSc, PhD (UPLB)
Gerry A. Camer, DVM, MS, PhD (University of Eastern Philippines)
Clarissa Yvonne J. Domingo, DVM, MPH, DrPH (Central Luzon State University)
Melbourne R. Talactac, DVM, MS, PhD (Cavite State University)
Technical Editors
Emilia A. Lastica-Ternura, DVM, MSc (UPLB)
Managing Editor
Junelle L. Paller
Fernando P. Micosa
Jocelyn E. Arcinas
Support Staff
Philippine Journal of Veterinary Medicine c/o College of Veterinary Medicine